Luce Irigaray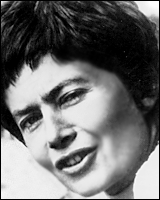 "Sexual difference is probably the issue in our time which could be our 'salvation' if we thought it through."
"...any theory of the subject has always been appropriated by the 'masculine.'"
"One must assume the feminine role deliberately. Which means already to convert a form of subordination into an affirmation, and thus to thwart it."
"...to posit a gender, a God is necessary: guaranteeing the infinite."



French psycholinguist and philosopher, author of Passions Elementaires (Elemental Passions) (1982), Ethique de la Difference Sexuelle (An Ethics of Sexual Difference) (1984), and Je, Tu, Nous: Pour une Culture de la Difference (Je, Tu, Nous: Toward a Culture of Difference) (1990). Irigaray examines the systematic suppression of feminine and maternal concerns from the history of Western philosophy in Ce sexe qui n'en est pas un (This sex which is not one) (1977), arguing that valorization of the masculine is destructive to the fluid multiplicity of feminine sexuality. Her essays often try to convey the significance of subjectivity by modifying the conventions of putatively 'objective' speech. In Speculum de l'autre femme (Speculum of the Other Woman) (1974), Irigary argues that women can de-center the "master discourse" of linguistic communication by affirming their biological duality.
--From Garth Kemerling's Philosophical Dictionary
Links
Luce Irigaray at Art and Culture
"Luce Irigarary: A Biography" by Bridget Holland
Postmodern or Poststructural Feminism
Selected passages from Luce Irigaray's This Sex Which is Not One
Luce Irigaray (Discussion of This Sex Which is Not One)
Claire Goldstein on Irigaray, This Sex Which is Not One
Gabriella Romani on Irigaray, This Sex Which is Not One
Seiko Yoshinaga on Irigaray, "Women on the Market"
Sean McDaniel on Irigaray, "Woman on the Market"
"Reader's Guide to Irigaray's "The Power of Discourse and the Subordination of the Feminine" by Pamela den Ouden
Luce Irigaray on Subjectivity
Brief bio
Irigaray at xrefer
Irigaray links
Irigaray quote
"Looking at Bourgeois through Irigaray's Gesturing Towards the Mother" by Hilary Robinson
"Je--Luce Irigaray: A Meeting with Luce Irigaray" by Elizabeth Hirsh and Gary A. Olson
"Islam, Irigaray, and the Retrieval of Gender" by Abdal Hakim Murad
"In Search of Feminist Discourse:. The 'Difficult' Case of Luce Irigaray" by Robert de Beaugrande
"Subjectivity and Gender: Luce Irigaray's, Judith Butler's and Riot Girl's Gender Challenge" by Vanessa Long
"Cyber-Feminism with a Difference" by Rosi Braidotti
"Feminism and love of the 'Unreal' God" by Esther D. Reed
"Mourning the Other, Cultural Cannibalism, and the Politics of Friendship" by Penelope Deutscher
"The Object Ophelia in Bloom" by Pia Sivenius
"Princess Diana, Mother Teresa, and the Value of Women's Work" by Derek Stanovsky
"The Style of the Speaking Subject: Irigaray's Empirical Studies of Language Production" by Marjorie Hass
"Digital, Human, Animal, Plant: The Politics of Cyberfeminism?" by Susanna Paasonen
"Tracing Sexual Difference: Beyond the Aporia of the Other" by Pamela Anderson
"An Act of Faith: Irigaray's Gender Identity and the Derridean Other" by Richard Hancuff
"The Economics of Ecstasy in Christina Rossetti's Monna Innominata" by Krista Lysack
"The Dangerous Luce Irigary: An Anti-Feminist Woman..." by Maryse Guerlais
Introduction to Feminist Interpretations of Aristotle in Re-Reading the Canon
Review of Alan Sokal and Jean Bricmont's Fashionable Nonsense
Irigaray at Erratic Impact
French Feminism's Holy Trinity
Books
To Be Two
by Luce Irigaray, Monique Rhodes (Translator), Marco F. Cocito Monoc (Translator)
Our Price: $18.95

Democracy Begins Between Two
by Luce Irigaray
Our Price: $18.95
Elemental Passions
by Luce Irigaray, Joanne Collie (Translator), Judith Still (Translator)
Our Price: $17.99
An Ethics of Sexual Difference
by Luce Irigaray, Carolyn Burke (Translator), Gillian C. Gill (Translator)
Our Price: $16.95

The Forgetting of Air in Martin Heidegger (The Constructs Series)
by Luce Irigaray, Mary Beth Mader (Translator)
Our Price: $14.36

I Love to You : Sketch of a Possible Felicity in History
by Luce Irigaray, Alison Maritn (Translator), Alison Martin (Translator)
Our Price: $15.99
The Irigaray Reader (Blackwell Readers)
by Luce Irigaray, Margaret Whitford (Editor), David Macey (Translator)
Our Price: $28.95
Je, Tu, Nous : Towards a Culture of Difference
by Luce Irigaray, Alison Martin (Translator)
Our Price: $18.99
Marine Lover of Friedrich Nietzsche
by Luce Irigaray, Gillian C. Gill (Translator)
Our Price: $18.00
Sexes and Genealogies
by Luce Irigaray, Gillian C. Gill (Translator)
Our Price: $17.50
Speculum of the Other Woman
by Luce Irigaray, Gillian C. Gill (Translator)
Our Price: $18.95
Thinking the Difference : For a Peaceful Revolution
by Luce Irigaray, Karin Montin (Translator)
Our Price: $17.99
This Sex Which Is Not One
by Luce Irigaray, Catherine Porter (Translator), Carolyn Burke (Translator)
Our Price: $15.95
Speech Is Never Neutral
by Luce Irigaray
Our Price: $55.00
Why Different? Collected Interviews (Foreign Agents Series)
by Luce Irigaray, Sylvere Lotringer (Editor)
Our Price: $8.95 + $1.17 special surcharge

Ecstatic Subjects, Utopia, and Recognition : Kristeva, Heidegger, Irigaray
by Patricia J. Huntington
Our Price: $24.95
Antigone's Claim
by Judith P. Butler
Our Price: $15.96
Engaging With Irigaray : Feminist Philosophy and Modern European Thought (Gender and Culture)
by Carolyn Burke (Editor), Naomi Schor (Editor), Margaret Whitford (Editor)
Our Price: $20.00

Irigaray & Deleuze : Experiments in Visceral Philosophy
by Tamsin E. Lorraine
Our Price: $19.95

Textures of Light : Vision and Touch in Irigaray, Levinas and Merleau-Ponty
by Cathryn Vasseleu
Our Price: $22.99
BACK TO EXISTENTIAL-PHENOMENOLOGY PAGE
BACK TO MYTHOS & LOGOS HOME PAGE