KARL JASPERS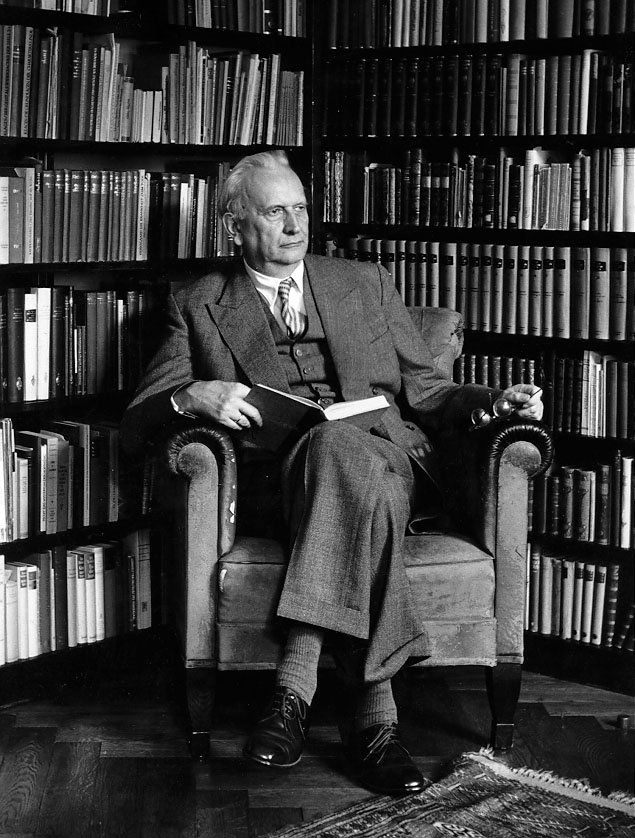 "The limits are looked for, behind which there is no additional world and yet where not only nothingness need be. Man seeks clear consciousness of the possible orientation in the world by pointing out that Being itself never appears anywhere in the world or as the world, but only as fragmented being. With this presupposition of the consciousness of limit I am able to live with the world as with that about which pertinent, objective orientation is possible, and yet I need not surrender to the world, but I can live related to Being itself, which I cannot orient in the world."
- Karl Jaspers, Philosophy and Existence
About Karl Jaspers
"Karl Jaspers (1883-1969), German philosopher, one of the originators of existentialism, whose work influenced modern
theology and psychiatry as well as philosophy.
Jaspers was born in Oldenburg on Feb. 23, 1883. He studied law and medicine and received his M.D. from the University of Heidelberg. He taught psychiatry at Heidelberg University from 1916, turned to philosophy, and held the chair of philosophy until 1937. During most of the Nazi period Jaspers, whose wife was Jewish and who refused to make any concessions to the Nazi authorities, was prevented from teaching. In 1948 he accepted a professorship in philosophy at Basel, Switzerland.
In his first major work, General Psychopathology (1913; trans. 1963), Jaspers criticized the scientific pretensions of psychotherapy as misleading and deterministic. He then published Psychologie der Weltanschauungen (Psychology of World Views, 1919), a work particularly important for cataloging various possible attitudes toward life.
Jaspers's major work in three volumes, Philosophy (1932), gives his view of the history of philosophy and introduces his major themes. Jaspers identified philosophy with philosophical thinking itself, not with any particular set of conclusions. His philosophy is an effort to explore and describe the margins and limits of experience. He used the term das Umgreifende ("the encompassing") to refer to the ultimate limits of being, the indefinite horizon in which all subjective and objective experience is possible, but which can never be rationally apprehended. Another important work is Existenzphilosophie (1938; Philosophy and Existence, 1971). The term Existenz designates the indefinable experience of freedom and possibility that constitutes the authentic being of individuals who become aware of the encompassing by confronting such limit-situations as chance, suffering, conflict, guilt, and death. Jaspers also wrote extensively on the threat to human freedom posed by modern science and modern economic and political institutions. Among his poltical works is The Question of German Guilt (1946; trans. 1947).
Jaspers died in Basel, on Feb. 20, 1969. His correspondence (1926-69), with the German-born American philosopher Hannah Arendt, was published in English in 1992."
--Courtesy of FunkandWagnalls.com
Links
Austrian Karl Jaspers Society's Jaspers page
Karl Jaspers at Brittanica.com
Yearbooks of the Austrian Karl Jaspers Society
Karl Jaspers page by C. S. Wyatt
Karl Jaspers page
Karl Jaspers at Phenomenology Online
Karl Jaspers and the Paradigm
Karl Jaspers Forum
The Karl Jaspers Society of North America
Karl Jaspers at Erratic Impact
Karl Jaspers at Encarta
Karl Jaspers at The Philosophical Dictionary
Karl Jaspers Discussion Forum
On My Philosophy by Karl Jaspers
Quotations from Karl Jaspers' "On My Philosophy"
Karl Jaspers, The Spirit of Europe
"Technology and Labor in Jasper's Philosophy" by Shuji Imamoto
"Karl Jaspers' Existenz Party" by Rich Gray
"A Unification Thought Appraisal of the Existentialist Analysis of Human Existence" by Unification Thought Institute
Books

Socrates, Buddha, Confucius and Jesus
by Karl Jaspers, Ralph Manheim (Translator), Hannah Arendt (Photographer)

General Psychopathology
by Karl Jaspers, J. Hoenig (Translator), Marian W. Hamilton (Translator)
General Psychopathology, Vol. 2
by Karl Jaspers, J. Hoenig (Translator), Marian W. Hamilton (Translator)

Spinoza
by Karl Jaspers, Ralph Manheim (Translator), Hannah Arendt (Editor)

Anaximander, Heraclitus, Parmenides, Plotinus, Lao-Tzu, Nagarjuna
by Karl Jaspers, Ralph Manheim (Translator), Hannah Arendt (Editor)
Kant
by Karl Jaspers, Ralph Manheim (Translator)

Way to Wisdom, an Introduction to Philosophy
by Karl, Jaspers, Ralph Manheim (Translator)
Plato and Augustine
by Karl Jaspers, Hannah Arendt, Ralph Manheim (Translator)

Philosophy of Existence
by Karl Jaspers, Richard F. Grabau (Translator)

Nietzsche : An Introduction to the Understanding of His Philosophical Activity
by Karl Jaspers, Charles F. Wallraff (Translator), Frederick J. Schmitz (Translator)
Anselm and Nicholas of Cusa
by Ralph Manheim (Translator), Karl Jaspers, Hannah Arendt (Editor)
Hannah Arendt Karl Jaspers Correspondence 1926-1969
by Hannah Arendt, Karl Jaspers, Lotte Kohler, Hans Saner (Editor)
RETURN TO EXISTENTIAL-PHENOMENOLOGY PAGE
RETURN TO PERENNIAL PHILOSOPHY PAGE
RETURN TO MYTHOS & LOGOS HOME PAGE